Our projects
We're currently working on 2 exciting projects in Tanzania, helping to change the lives of more than 1,000 young people.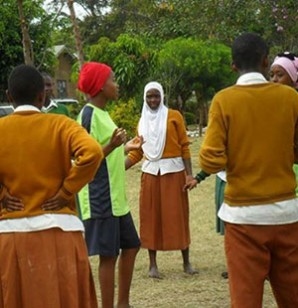 Sport and Sexual Health Project
HIV/AIDS is a huge problem in Tanzania – 1.4 million people have the condition.
YES! Tanzania's Sport and Sexual Health Project is aiming to significantly reduce HIV infection among 15- to 24-year-olds from the poorest communities in Arusha.
We're working with 3 local partners in the district, already doing good work with young people, to build their capacity to use sport as a vehicle to achieve this.
We help all 3 include games as part of their programmes to increase knowledge about HIV and AIDS, reduce gender inequality, reduce risky sexual behaviour and increase frequency and consistency of condom use.
Each of our 3 partners works with young people in different ways:
Umoja Tanzania provides a year-long education programme to help young people get back into education, employment or training.
Pallotti Parish provides a range of community services, including sports activities, for young people living in a slum area of Arusha.
CASEC supports the development of educational 'health clubs' for pupils in 14 secondary schools in Arusha.
Umoja Tanzania manages the overall project on the ground, employing a programme manager to develop and deliver 'Sport and sexual health education' training as well as providing support to the community sport coaches, leaders and teachers running the games.
We are monitoring and evaluating the project closely to measure its impact – read a summary report of our May 2017 evaluation.
We plan to use evidence of the project's effectiveness to promote this approach to other agencies and organisations throughout Tanzania in the future.
This is a 3-year project which started in 2015, funded through the Scottish Government's Small International Grants Programme.
Real life stories
Vulnerable Youths Boxing Project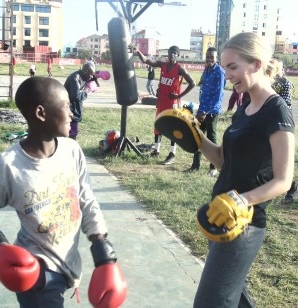 In February 2015, Amalie Hoerlyk Dalsgaard, a volunteer from Denmark, contacted YES! Tanzania looking for help to set up a project giving street children in Arusha the chance to take part in boxing.
We now support Amalie to run 4 boxing sessions a week in the city. The children who attend also get much needed food and water.
Amalie secured funding from the Danish foundation Ragnhild Bruuns Fond to support the project.
Real life story
Hear from boxing coach Abasi